Managed services simply put is outsourcing your IT needs to a company such as myself.  What we do is manage your IT needs and services both remotely and on-site for you.  A lot of people think of IT support as simple helpdesk support, but there is so much more to it than that.  Not only can we help you with day-to-day problems, but we can help with preventative problems as wells such as hacks and viruses or data loss.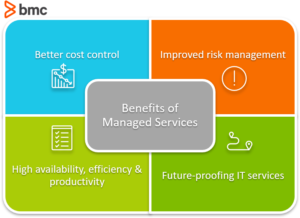 One such service that we offer is managed cloud backup for your company.  Most companies do not have a disaster plan in place these days and that is where we come in to help.  We can offer a fully managed, automated cloud backup solution for your company so that you don't need to worry about the potential loss of data from things such as hard drive failures or even Ransomware attacks.  By having your data backed up off-site you are protecting it from other disasters such as fire, flood or theft.  No longer are your backups located with your local machines and susceptible to these problems any longer.  Your data is now encrypted and stored off-site in a secure location with redundancies taken into consideration so that no loss of data will occur.  With this service we can also perform such things as a remote wipe of your computer as well if need be.  Have you or an employee ever left a laptop at a hotel or on a plane?  Well now we can securely wipe your data from afar for you so that it doesn't fall into the wrong hands.
What other types of services can you off load to a company such as Preferred Computer Solutions?  Well antivirus is another big one.  We now offer an industry leading managed antivirus protection suite for your company.  Not only is this suite very robust, but it also uses very little system resources compared to consumer grade protection suites.  We can monitor the health of your systems and are alerted to any threats that are found on each system in real-time. If for any reason, the threat cannot be removed, then we can make a plan with you to remove the virus for you through other means.  A protection suite like this is great for keep you and your company secure from viruses and hackers.  With a strong firewall added in you have a complete package at your fingertips.
One of the great things about all of these services is that they can all be done remotely with no impact on you or your productivity throughout your workday.  We can monitor everything for you taking the burden off your hands and into our laps.  This is what makes us tick and we are happy to do this day in and day out for you and your company.  We are proud to offer managed services such as this and know that it can help protect you and your business.
If you have any other questions as to what managed services are or how they can benefit you and  your business, please reach out to us and we will be happy to answer any of your questions.