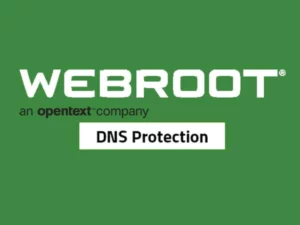 Overview of Webroot SecureAnywhere DNS Protection
A cloud-based web security solution called Webroot SecureAnywhere DNS protection aids in shielding data and personnel from harmful online content.
With the use of Webroot's BrightCloud Threat Intelligence, it provides threat defense.
Additionally, it offers fine-grained web filtering for the websites that employees can access.
Since there is no software or hardware to install, setup is quick and simple.
Additionally, the program provides reports and staff behavior monitoring.
Webroot was established in 1997 and has its headquarters in Broomfield, Colorado.
DNS Protection Features
DNS protection makes the service quick, light, and simple to install and maintain.
Customers can easily add this service to their existing Webroot Endpoint Protection subscriptions for multi-layered security.
Industry-leading threat security that scans networks and identifies threats using machine learning and a contextual analysis engine
Web filtering is available in over 80 URL categories, allowing administrators to customize the filtering solution to their organization's needs.
Admins have detailed control over what access employees have.
Inbound and outbound malicious domain blocking in real-time
Off-network control provides traveling users with security and visibility.
Integrated with Endpoint anti-virus, which is readily installed on computers and runs as software.
Recommended option for MSPs due to simplicity of deployment and management
Detailed logging, reporting, and real-time visibility of all network users, wherever they are working
Bottom Line
The down and dirty is this product is a great way to protect your business and ensure that your employees are using their company paid time to the best of their abilities.  No more hours on social media or shopping for the next gift or household item on their list.  Give us a call today to help improve your business.
Home Users
We can in turn use this product as a parental control filter for you home PC's.  WE have access to over 30 questionable categories that we can filter out along with the ability to add custom URLs when needed.  Give us a call today to help protect those that you love.